Compensation
The Average Salary of a lineman apprentice is $28 per hour across the state of Pennsylvania. Many are then able to build their work experience into to six figure jobs. As of 2015 a journeyman lineman can make as much as $50/hr in Pennsylvania.
Students leaving our program have started paid apprenticeships and other jobs earning from $15/hr all the way up to $27.50/hr.

In the past, employers could address worker shortages by "borrowing" skilled workers from other states. This time around, those workers will be busy upgrading the infrastructure in their home state. The only way to face these challenges successfully is to upgrade the skill level of the current Pennsylvania workforce and to develop programs for passing on knowledge to workers entering the industry. This will enable employers to continue to serve their customers while providing workers with family-sustaining wages through jobs that that are difficult to outsource.
Severe hiring demands driven by an aging workforce and coupled with a lack of skilled applicants is creating a "perfect storm" in human resources. The Bureau of Labor Statistics reports that, in 2008, 64% of the Pennsylvania utility workforce is over the age of 45.  According to the US Census Bureau Local Employment Dynamics report, as of the second quarter 2008, almost 40% of Pennsylvania's utility industry employees age 45 to 54 will be eligible for retirement in the next 5 to 10 years.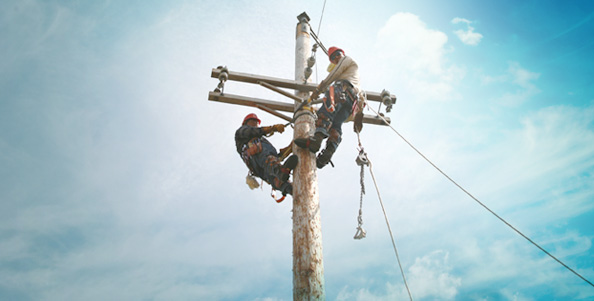 Additional industry challenges include legislation, such as Act 129, Distribution System Improvement Charges (DSIC), American Clean Energy and Security Act, and PA Climate Change Act.  These legislative mandates address long overdue energy efficiency and infrastructure upgrades.  They will also drive job creation and training needs in both emerging and traditional utility sectors.  Some examples of infrastructure upgrades created by emerging technologies:
Grid Connections for utility scale solar and wind generation
Smart grid and Smart metering
The electric distribution industry is fast approaching a workforce deficiency. Global Powerline Academy is the only school of its kind in the Mid-Atlantic region that is addressing this anticipated shortage.
The electrical power generation, transmission and distribution industry employs about 400,000 people nationally.   Of those power workers, 30-40 % will be eligible for retirement or will leave the industry for other reasons by 2013. Of those 120,000 to 160,000 that are going to be leaving the sector, an industry survey suggests 58,200 will be skilled workers and another 11,200 will be engineers.  The National Commission on Energy Policy also predicts that by 2022 there will be a need for 150,000 professionals for designing and constructing new electrical infrastructure, or about 40 percent the size of the existing workforce.  "The demand for skilled workers to operate and maintain the electrical generation systems of the future will increase steadily as new technologies come online.  The number of additional workers will be around 60,000 by 2030, an increase of roughly 15 percent."